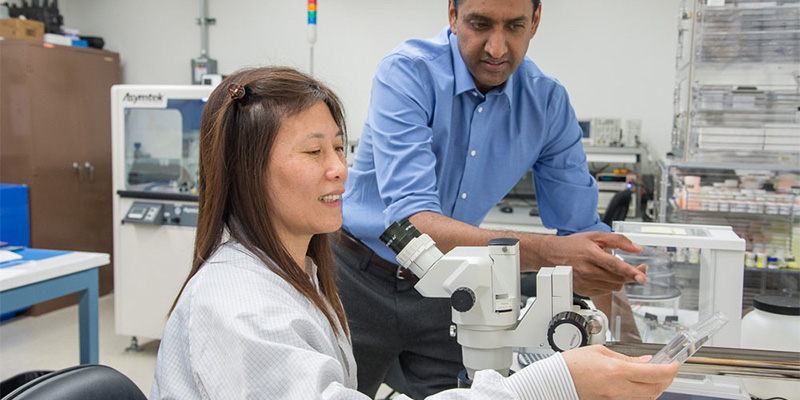 I am committed to ensuring that women are treated fairly and have an equal opportunity to build a strong economic future for themselves and their families. Having successful women in every sector of the economy moves America forward – bolstering our position as a social and economic leader in the 21st century.
As a board member of Planned Parenthood of Mar Monte, I have long been an advocate for giving women more control over their health. But ensuring a woman's right to make the healthcare decisions that are right for her and her family is not sufficient to fulfill our country's promise as a land of opportunity.
As a member of Congress from Silicon Valley, I will continue to fight for forward-looking policies that give women economic independence, ensure work-family balance, and close discriminatory gender gaps wherever they exist. 
Removing Workplace Inequities
Drive the discussion on increasing women's presence in corporate boardrooms. Occupational segregation exists in many sectors. Women are egregiously underrepresented in top positions at our leading companies. Only 4.2% of Fortune 500 CEOs are women.
We should spotlight the companies that are dedicated to hiring women and helping women ascend the corporate ladder. Microsoft, for example, rewards its employees who successfully sponsor women in its junior talent pool and help them work their way to the top.
Make businesses supply comprehensive guidelines for filing equal-pay lawsuits. The gender wage gap is a persistent problem, with women in 2010 making only 77 percent of what men made. Over a 35-year working life, the pay inequity shortfall in women's earnings is about $210,000. Today, when more women than ever before are the sole or primary sources of household income, the wage gap is also seriously undermining families' economic security.
We should make it easier for women to report wage discrimination and to file equal-pay lawsuits so that employers are held accountable. The federal government should provide resources to workers and businesses about how to report wage discrimination, and all businesses should be mandated to post the guidelines where they are accessible to all employees.
Increase training opportunities for women in male-dominated fields. During the recovery, women have lost jobs while men have gained jobs, largely because the focus on job creation by policy makers and elected officials has targeted male-dominated fields like manufacturing and infrastructure construction. In the period between June 2009 and December 2011, when the recovery was taking off, women's unemployment actually increased from 7.6 percent to 7.9 percent. Women gained just three percent of the 1.4 million jobs added to the economy during that time.
I am committed to increasing American manufacturing and exports to help promote job growth and believe women who are interested should be encouraged to enter these fields. We should provide more skills training programs and mentorship for women in manufacturing, construction, and similar professions.
Increasing Women in STEM Fields
Award grants to companies that train women in tech. Private companies like Hackbright Academy are leading efforts to train women in computer programming. In fact, Hackbright Academy graduated more women software engineers in its first year than either UC-Berkeley or Stanford University.
The Department of Commerce should implement a strategic investment fund to align federal development resources and private companies like Hackbright Academy to creatively and efficiently train and prepare women for jobs in STEM fields. STEM training should be accessible to women from all different backgrounds, and the cost of private training academies should not deter motivated and qualified women from attending.
Improve girls' access to STEM afterschool programs. Millions of children and teenagers lack access to afterschool programs that provide rich opportunities for growth, learning, and fun while keeping them safe and engaged before their parents get home from work. Afterschool programs are also useful supplements to public education for ensuring that the next generation will be thoroughly prepared to enter the workforce and could be particularly effective at encouraging more girls to pursue STEM fields.
Support online mentorship programs. Studies have shown that quality mentorship helps encourage girls to enter STEM fields, and online platforms for mentorship expand access to girls across the U.S. – even if they don't live close to major tech industries or universities. A prime example is Harvey Mudd and Piazza's online platform WitsOn, which allowed more than 200,000 students to interact with 500 women mentors over seven months.
We should support online mentorship programs to ensure that they remain high quality and continue to be free of cost. We should also spotlight the corporate funders of programs like WitsOn to encourage more companies and universities to implement similar programs and make information about such programs available in all public schools.
Incentivize supplemental STEM classes for girls in schools. Many studies indicate that when given the opportunity to study STEM material in girls-only courses at a young age, girls become more interested in STEM and are more likely to choose to pursue STEM disciplines in their future educational and career choices. Currently, women only make up 24 percent of the STEM workforce, but women who do work in STEM earn an average 33 percent more than their counterparts on non-STEM career paths.
We should incentivize schools, both public and private, to find creative ways to encourage more female students to enroll in STEM classes. Many middle schools and high schools let students choose electives in addition to their required coursework. One idea might be to establish STEM-related electives that are specifically geared toward female students.  
Encourage universities to put women on the tenure track. Today, women earn 41 percent of the total PhDs that are awarded in STEM fields, but make up only 28 percent of tenure track faculty in those disciplines. And although minority women have made steady inroads into STEM fields over the last several decades, they continue to be underrepresented among those receiving degrees and holding university positions in these areas. It is important for women of all ethnicities to teach the next generation of mathematicians, scientists, and engineers, and serve as mentors and role models for their younger counterparts.
We should recognize universities that are doing a good job of getting women in STEM fields on the tenure track, as well as women in STEM professions who serve as leaders and mentors to the growing generation of girls pursuing STEM training and research.
Supporting Women Entrepreneurs
Give women the opportunity to showcase their ideas. The biggest challenge many startups currently face is how to attain capital. Yet, it's often not the best ideas that receive resources, with funding for entrepreneurs instead determined by factors like the school the individual attended or which people the would-be startup professional knows. Statistically, male entrepreneurs are more likely to find investors than their female counterparts. In fact, only three percent of all female-founded companies receive critical Series A venture capital.
The Department of Commerce should host regular showcases or "start-up fairs" where innovators can display their ideas to potential investors. Such events would help ensure the startup investment process is based on merit and the currency of ideas rather than personal networks. Potential investors would be able to explore more new ideas before committing to investing in any particular startup, and entrepreneurs with good ideas would have a better shot at receiving investor funding.
Expand support to the SBA's Office of Government Contracting & Business Development. The SBA has a program called the Women-Owned Small Business Federal Contract program. The initiative authorizes contracting officers to set aside certain federal contracts for eligible women-owned businesses and economically disadvantaged women-owned small businesses. Yet only 30 percent of small businesses currently have women as their primary owners.
We should expand this program so it reaches every woman who needs the support and ensure more women who want to start businesses have the resources they need to succeed.
Promoting Family-Friendly Work Environments
Institute mandatory paid parental leave. To qualify for job-protected medical or family leave, individuals currently have to meet a list of requirements, including working for their employer for at least 12 months and accruing 1,250 hours of work over the past 12 months. If they are granted leave, it is usually unpaid.
No matter where they choose to work, both men and women should qualify for paid parental leave. Studies have shown that younger children benefit the most from interaction with their parents – that's why it's imperative that new parents have the security they need to enjoy time with their newborn babies.
Expand access to childcare. President Obama has proposed creating a national preschool program for low- and moderate-income four year-olds. I strongly support the this proposal, but I also believe there is more we can do to address lack of access to quality, affordable child care in this country.
We should make child care more affordable and available for children from birth to age three – including by addressing the high cost of care facing both low-income and middle-class parents. We should also make child care more accessible to student parents by expanding facilities in our community colleges.
Offer tax deductions to companies that help families find child care. Several companies, including big tech firms like Yahoo, Google, and Facebook offer childcare resources to their employees including providing on-site child care, arranging bulk discount rates for employees at local childcare centers, or helping to pay for care when their employees work extended hours or requested overtime.
These companies are setting a great example for other employers in the area and should be rewarded for helping families. By providing tax deductions for employers that help with child care, we can encourage other companies to help relieve their employees' child care burdens so that they stay competitive and are able to recruit the best employees.
Increase funding to the National Institutes of Health (NIH) for its "re-entry" program. The NIH has a program designed for scientists who have taken time away from laboratory research to raise children or attend to other family responsibilities. While the program is open to both men and women, more than 90 percent of its participants have been women.
We should increase funding to the NIH to expand its re-entry program. More parents should be encouraged to take advantage of the program so they can take time off to devote to their families without sacrificing their careers.